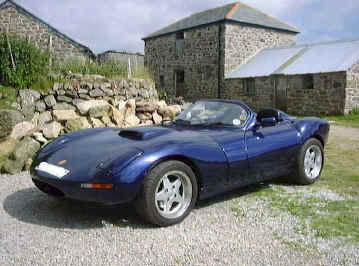 Chassis no. 016. First reg. 1992 but presumably built in 1991. I am the third owner.

Originally yellow but, when I bought it in 1998, it was (and still is) dark metallic blue – to be precise, BMW 'Mauritius blue'. It had about 8500 miles on it then and now has 21000.

No 'heavy' mods.

Have had a new hood made, had two new head gaskets fitted (exhaust gases in coolant – caused by overheating?), had new clutch fitted (poor gear change – lack of use?), had wishbones sand blasted and powder coated, have had a stainless steel exhaust system fitted (middle and end only – have kept manifolds and mild steel 4-2-1 piping), have modified cooling fans fuses, have added rubber to front of inner wings to keep out muck, have replaced various suspension rose joints with the addition of Demon Tweeks rod end seals and have cured very annoying knocking which seemed to come from back by adding rubber to bulkhead/lower wing interface (sound can travel along chassis).

Am running on 205/50 Yokohamas but will have to change soon. I've had two of my six Fondmetals refurbished and sprayed (they look very good) and plan on getting two more tidied up similarly.
---